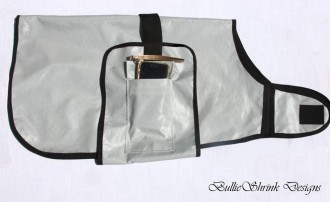 BullieShrink Designs Introduces New for 2017
The Sporting Coat
The BullieShrink Designs Sporting Coat is for dogs that need protection, not bling.
Great for Tracking, hiking, nosework, and any other outdoor function where tough, durable fabric is needed. The coat has front overlap closures which are attached with heavy elastic to make them adjustable to the dog. One of the sides has what I call a belly panel: This panel, again lined with cooling
fabric, goes under the …dog's belly. It's held in place by a strap that goes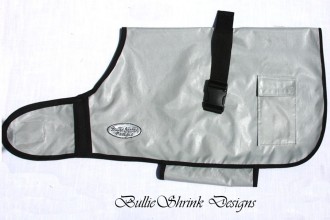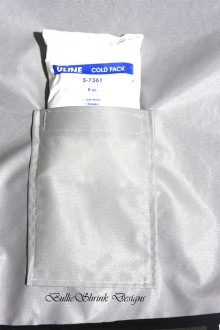 This 4″ x 6″ Velcro-closed slit pocket is specially designed to hold cool packs or Emergency Cool Packs
over the dog's back and attaches to a clasp on the opposite side.
Unique to this design is that there is a 4″ x 6″ pocket on the belly panel that can hold either a Cool Pack or Emergency Cool Pack used in First Aid kits and by athletes who need sustained cooling.
The Outside: Packcloth Nylon Denier 420 is used for the outside of the Sporting Coat. Denier is a tight, durable weave. This fabric has a polyurethane coating that makes the fabric waterproof yet flexible and lightweight. The fabric is "extremely abrasion resistant".
Lining: I use the same proprietary athletic cooling fabric as with the cool coats. Just wet, shake and the cooling properties begin immediately. As the cooling wears off, just shake. As long as the coat is wet, the cooling is activated. No chemicals are used.
Special Features. Besides the pocket on the belly panel, I've added two 5″ x 7″ pockets : One on the front face of the belly panel and the other on the rump. These pockets have outer flaps that attach with Velcro for security.
This coat is available in Turquoise, Kelly Green, Forest, Olive, Dark Brown, Tan, Coyote, Yellow, Gold, Orange, Red, Maroon, Purple, Navy, Royal Blue, Electric Blue, White, Light Silver, Charcoal, Black, Teal.
Additional add-ons include reflective or safety tape for protection and custom embroidery.