BullieShrink Designs is celebrating our 20th anniversary of our popular custom-designed Cool Coats
Throughout the years the coats have evolved in function and design. They are lightweight, soft and washable. With the addition of proprietary athletic cooling fabric lining, our Cool Coats cool quickly and consistently throughout the coat. As long as they're wet, just shake and the cooling mechanism is reactivated. And no chemicals!
Of course the sparkle and sophisticated elegance remains the same but now we offer coats that are customized and personalized with embroidered names, kennels, themes (e.g., sports, flowers, etc.) and complex embroidery designs.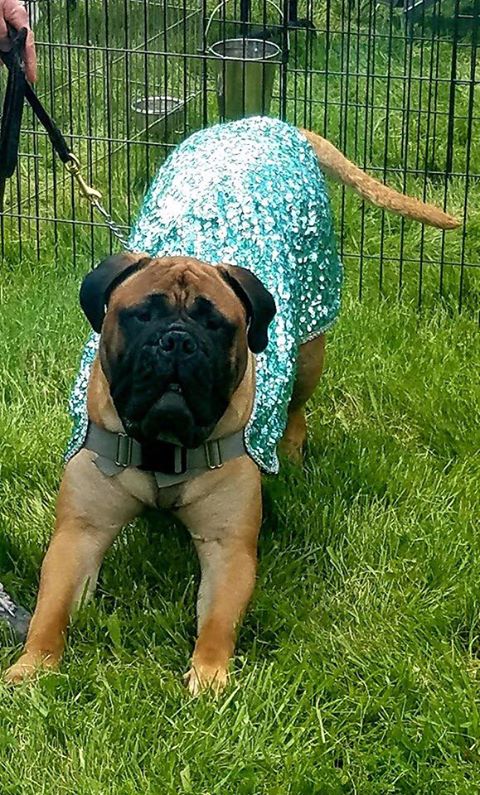 BullieShrink Designs Cool Coats feature a proprietary athletic cooling fabric. The remarkable cooling properties work quickly and effectively to provide a cooler, more comfortable and sustained and heat relief. It's easy to use: Just wet, shake and wear. The cooling mechanism begins immediately and cools faster than other cooling materials. When the cooling starts wearing off, just shake. As long as the fabric is wet, the cooling will reactivate. This athletic cooling fabric is extremely light and breathable, making it great for dogs. Unlike many of the other products, this fabric remains soft and light. And as always, these coats are washable! No chemicals used in the cooling process.
About BullieShrink Design Cool Coats: My Cool Coats are designed for fashion and function. Not only are my Cool Coats striking and showy, but they protect your dog from becoming overheated outside and also inside, such as crowded, stuffy ring venues. They also help pets stay cool in times of emergency such as with power outages during a storm. The outer layer of my Cool Coat is stylish and sophisticated with your choice from a variety of colors and styles. The entire outer edge is decorated with showy trim and/or braid. Fringe or dangle trim is available upon request.
Guide to measuring your dog for a Cool Coat
Cool Coats For Sale
Due to website maintenance, available Cool Coats are not listed. Please message me on Facebook @bullieshrink or email to bullieshrink@gmail.com. 

Please browse through the gallery below wearing BullieShrink Designs' Cool Coats