Posh Parka winter coats provide protection for your dog from rain, wind and cold
Designed for Bullmastiffs and large breed dogs but also available for smaller dogs
BullieShrink Posh Parkas are designed to protect cover your dog from head to tail. The back extends from neck to tail with a large collar that protects the neck and back of the head. A bib extends from the chest and through the front legs and belly Large straps connect on each side and are held securely in place with Velcro. Luxurious minky faux fur or fleece that provides extra warmth and protection from the elements. A slit just below the collar allows a lead to attach to the collar without compromising the dog's warmth. Decorative buttons attached to the straps for sophisticated elegance and design.
Posh Parkas currently are available in three styles: Polartec Power Shield Posh Parka, and Ultrex 2 (Modeled by Swagger, below right), and quilted or other warm fabric (see Beckham above right modeling a Quilted Gold Medallion).
Polartec Power Shield and Ultrex
BENEFITS
Weather resistant
Highly breathable
Comfortable stretch
Durable
Easy care
Available in multiple styles and weighs
Versatile all-weather resistant protection
Notice the ease of movement for athletic dogs. Light and breathable.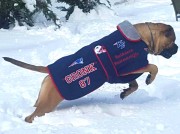 Luxury faux fur or fleece lining for added warmth and protection. Machine washable.
Personalize and customize your dog's coat with embroidery and designs.
For a closer view, click on the picture.
Posh Parka Black with Gray Minky Faux Rabbit Fur Lining
Posh Parka, Black with Gray Minky Faux Rabbit Fur Protect your dog from harsh winter weather. The outer shell is black Blue Polartec® Power Shield® with a lining of minky faux rabbit fur in gray with black and white highlights. This is one cuddly coat. The trim along the edges is a gray tie-dyed fabric with small silver glitter sparkles. The picture was shot in daylight but given the difficulties with photographing black and gray, I also posted the same picture with a teal Photoshop background. Size: This coat is 27" in length (from collar over the base of the tail) for an average adult bullmastiff-size bitch. *. Custom sizes and additional colors available. The coat is designed with a bib that cover the chest and underbelly with straps that connect on each side with Velcro. Lightweight yet warm to allow ease of movement. Water, wind, cold resistant.
Size: 27" from collar to rump and 17" from mid-back to bottom chest.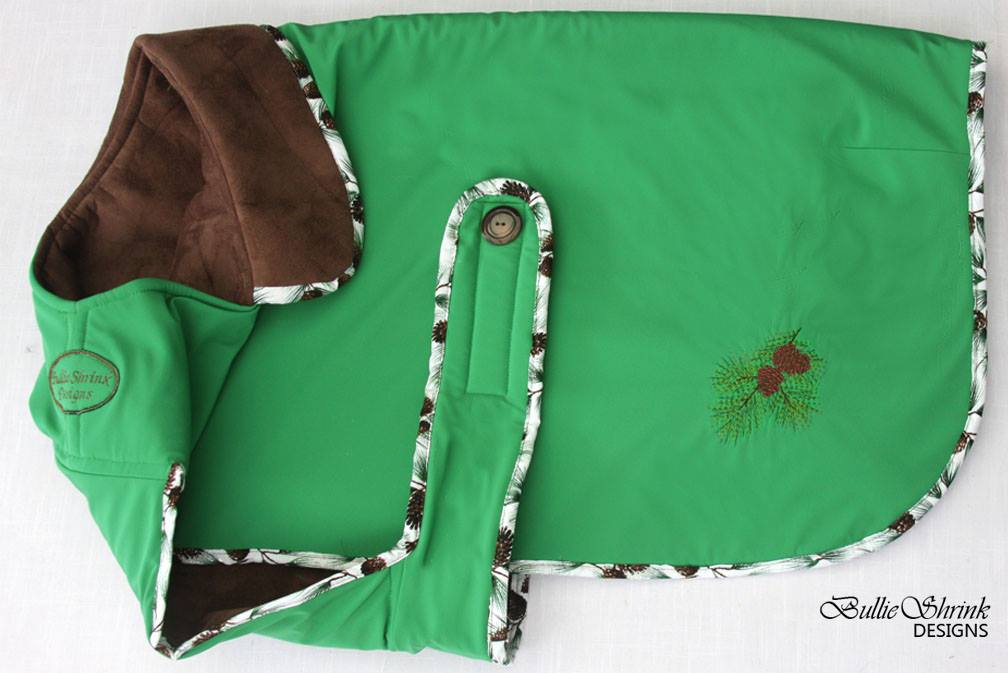 Faux Fir Posh Parka
Kelly green Polartec Power Shield water & wind resistant outer shell. Faux velour with Sherpa backing for a warm, cuddly lining. The edging is white with green pine needles, brown pine cones and metallic silver highlights. Embroidered pine branch and cones embroidered on one side. Brown decorative buttons.
Size: 28" x 18"