Large breed dogs need elegant style too and what better way than with a collar designed with genuine Swarovski Austrian crystals. The elegant sparkle and shine of Swarovski crystals captures attention from all who are near.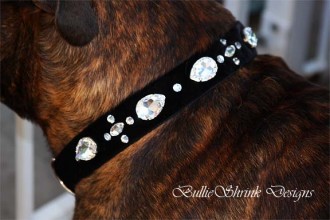 Crystals are individually hand-sewn onto the collar, often velvet or satin to accent the crystals. Larger crystals are mounted in settings then sewn onto the collar. As with all of my collars, each is made using Polypropylene webbing and welded steel or brass hardware. Clasp collars are made with either nickel-plated steel or brass double-sided clasps.
Why Swarovski? For more than a hundred years, Swarovski has been the world's leading brand for cut crystal. Swarovski uses only the finest materials to fashion faceted lead glass that is known around the world for its brilliance and value. Superior production, materials, cutting, and polishing are what set Swarovski Crystals apart from other glass works.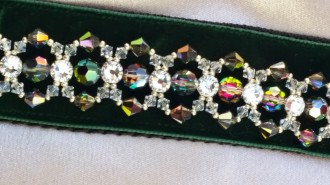 _
_______________________________________
WARNING:
Proposition 65 issued by the State of California all of the vendors, distributors and producers of glass products with a lead content become obliged, with immediate effect, to inform the residents of the State of California on possible health hazards connected with unlikely, yet possible spontaneous release of lead and other chemicals from glass into the human body. Chemicals can become released when handling or swallowing any lead glass products or their spare parts containing lead, including fashion jewelry, fashion jewelry stones, crystal figurines, chandeliers and trimmings.