Classy and Elegant
Bullmastiffs and large-breed dogs need stylish and sophisticated collars that reflect their dignified character but most importantly, provide safety, security and durability necessary in a collar. I used the highest quality products in my exclusive designs. Each is hand-made with the finest, most luxurious trims from all over the world. Exotic hand-beaded, hand-embroidered trims from India, silk brocades, French jacquard and Celtic trims are among the hundreds to choose from to design the perfect collar for your pet.
Ready-Made or Design Your Own: Choose from a variety of available collars or create a special collar just for your dog! First, select your trim from our catalog then decide what style (see Collar Styles below). From there we choose clasps and hardware available in a variety of colors including brass, nickel, steel and now 16 colors of powder coating.
Not blingy enough? Add genuine Swarovski ™ Austrian crystals (available in a variety of colors, shapes and styles) add that special finishing touch for a unique art-piece rich in sparkle that spot lights your pet. These crystals are bonded to the collar with tiffany or rim-set connectors for increased durability and long-lasting stay.
Construction
Each collar is custom-made using your choice from hundreds of elegant trims securely sewn on Polypropylene webbing (manufacturer strength-tested between 600 and 1500 pounds depending on desired thickness). One of the reasons my collars stand apart from others is that I choose only the highest quality hardware for clasps, slides, D-rings and Beefy Snaps for leashes. The clasps connect ends of the traditional style collars. I use double-sided clasps made from strong and durable plastic or aluminum. Clasps are available in a variety of colors. Slides and d-rings are all constructed from welded steel, brass or powder-coated aluminum (available in over a dozen colors). The decorative yet functional hardware customizes the design and complements the trim for completed, elegant finished collar design. As an added bonus, many of these collars are machine washable.
Matching leashes are available in most styles. I use only Beefy Snap hooks on leashes for larger dogs.
Collar Styles
Four collar style choices are now available: The traditional clasp collar using a sturdy double-sided clasp; the Martingale; the new Martingale Clasp which allows the ease of use with the Martingale without having too much collar for large-head dogs; and the slip collar which is designed similar to the choke collar in that it pulls snugly around the neck but with sturdy gentleness that does not hurt the dog's throat. Great for puppies because they cannot slip out.
The Clasp Collar is the more traditional collar style. I use steel double-sided clasp side release buckles. Double-sided buckles are also available in strong plastic. Breakaway buckles are available for therapy and agility dogs and even (yikes), cats. I should add that they are preferred for Alpacas as my portfolio includes a very satisfied Alpaca client.
The Martingale Collars are typically seen on boxers, hounds, whippets but can be used for any breed of dog and have become very popular with bullmastiff owners. Martingale collars fit loosely around the dog's neck and a preferred style for show dogs to protect the dog's coat. Instead of a clasp, the ends of the collar attach to a loop with a D-ring centered at the top. When attached to a lead, or pulled, the sides of the collar gently close around the dog's neck for a secure hold virtually impossible for the dog to slip.
Martingale Clasp Collars are just that: Martingale collars with double-sided clasps. This adjustable collar is great for a large-head dog so that you don't have to constantly adjust the larger collar necessary to fit over the dog's head.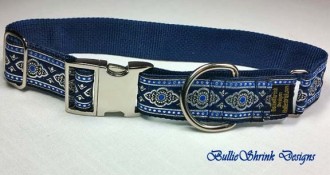 Slip Collar: My favorite, especially for younger dogs. The Slip Collar wears like a choke yet functions like a Martingale. The collar lies comfortably around the dog's neck when not attached to the lead. At the end of the collar is a D-ring which when pulled, tightens securely around your pet's neck for positive allow control. The Slip is safer for the dog in that it doesn't hurt the neck as can a choker but it functions similarly in that the dog cannot shrug out of this collar.
Covered Prong Collars: Prong collars are especially useful for exuberant dogs and for training purposes or when the handler has physical limitations that would prevent controlling the dog in excited or emergency situations. They are not to be used for punishment. They are to be removed after use. Do not leave these collars on your dog.
Only Herm Sprenger classic stainless steel prong collars are used in my designs. These collars are designed so pressure is evenly spread around the dog's neck. The ends of the links are also carefully rounded to prevent injury to your dog.
The Covered Prong Collars are made in the Martingale/Clasp style to fit comfortably around your dog's neck with the usefulness of the Martingale loop Each collar has two detachable pads with 5-6 prongs each (depending on size). The pads are held in place with Velcro and can be removed for use as a standard collar. The collars can be made out of most standard trim patterns (not ornate, crystal or sequin). Measure as you would a standard collar and the width will be adjusted for prongs. These collars are adjustable to allow for growth.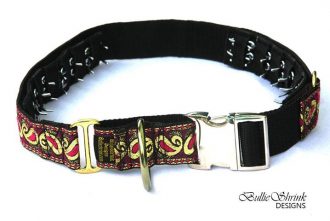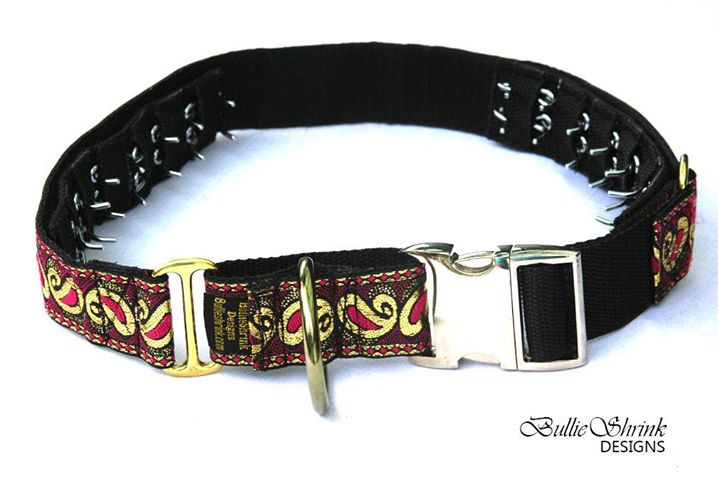 The Herm Sprenger prongs come in three sizes: S-M = 2.5mm, L=3.0mm and XL is 4.0mm.
Collar Sizing
To assure your dog's new collar will be a proper fit, it is highly recommended http://bullieshrink.com/how-to-measure-for-your-dogs-collar/ to ensure you are purchasing the correct item for your dog.
Remember, collar safety is YOUR responsibility. Pets should never be left unattended in a collar. Only you can determine the suitability of these collars for your pet.
CAUTION: Collars can cause serious injury to any dog. Please never leave your dog unattended while wearing ANY collar. Check with your vet or breeder to determine which collar is most suited for your pet. Children must be supervised when using this type collar. Please use your good judgment and common sense in determining appropriate use of any pet collar.