Crystallized Clothing
Wearable art that captures playful whimsy combined with sophisticated style.
Elegant crystallized designs using genuine Swarovski crystals. I choose only Swarovski rhinestones because their quality, elegance and perfectly faceted cut that grabs the light and with stunning shimmer that attract attention whenever they are worn.
My crystallized clothing is designed for versatility so that they can be worn casually on a tee to stylishly accessorize jeans or slacks, or elegantly for special occasions on on dress or evening wear for special occasions. These designs are more than clothing, they are wearable art.
One of my most popular designs is the "Running Bullie". Almost 300 Swarovski Crystals are attached with a professional grade heat-press to securely attach them onto the clothing. I have incorporated the Running Bullie design in several sizes and styles. The larger design is approximately 13″ wide and 6″ high and looks elegant and sophisticated as the focal piece on shirts. The smaller Running Bullie Design can be placed within a paw-shaped heart of colorful metallic or on the side of a polo shirt. Please click HERE
Samples of my designs are primarily bullmastiffs as that is my breed and from where my designs originated. However I can create crystallized designs for most breeds, club logos or ostrich eggs!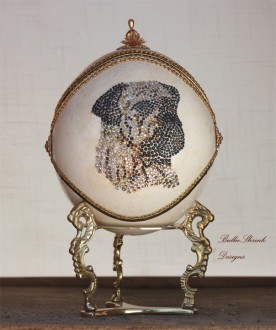 Swarovski Colored Crystal Bullmastiff Headpiece
Bullmasatiff head designed compelely with genuine Swarovski crystals in a variety of colors and sizes. Size approximately 5" x 5-1/2". Best shown on jacket or long-sleeve tee or sweater.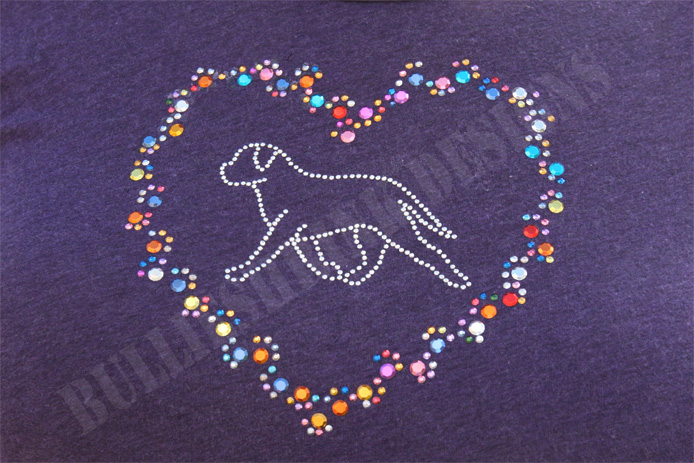 Running Bullie With Heart Design
Running Bullie in Heart design is comprised of colorful metal pawprints shaped into a heart. The bullmastiff can be constructed with silver faceted metal beads or Swarovski crystals. Special Order due to the number of clothing styles and colors available, please email me to directly. Ask about other breeds available.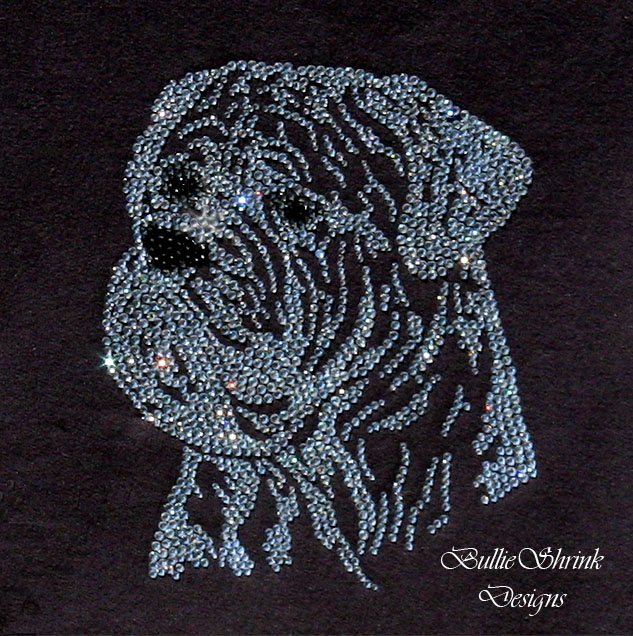 Swarovski Crystal Bullmastiff Head
Special Order: Full bullmastiff head image designed entirely with genuine Swarovski crystals. This image is approximately 5-1/2" x 6". Your choice of long or short-sleeve tee. Also available on sweatshirt or jacket (extra- ask about pricing). email for information BullieShrink@cox.net.