Styles of leads include the standard loop end or clasp, comfort and Roscoe styles.
Ask about matching show collars.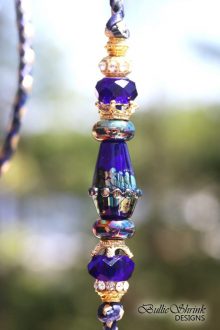 Kangaroo leather is considered the strongest available. Kangaroo leather is naturally soft to the touch and gentle on your hands. The leather on my leads is prepared by splitting, stretching and beveling prior to braiding. This provides an added softness to the touch but has the function decreasing stretching and increasing strength and securing. Several different cores are used including Dacron, Kevlar, and doubled "Brutally Strong" 200 pound shark line.
Show Leads typically range in length from 20" to 36″; however custom leads of different lengths and handle size are always available. The Show Leads can be made with loop ends to attach directly to the dog's collar, clasp or Roscoe. Ask about matching show collars.
BullieShrink Designs Show Leads Gallery