Kangaroo leather is considered the strongest available. Kangaroo leather is naturally soft, however I bevel and conditioned the leather for added comfort. To increase strength and reduce stretching, the leather is beveled and set with additional strength and security from a core of doubled "Brutally Strong" 200 pound shark line.
Show Leads typically range in length from 20" to 36″; however custom leads of different lengths and handle size are always available. I typically have a loop on the end to securely attach to the dog's collar with clasps available upon request. Of course, custom designs may have clasps attached as desired.
Show Leads Currently Available For Sale
Don't see what you're looking for? Contact me for custom designs.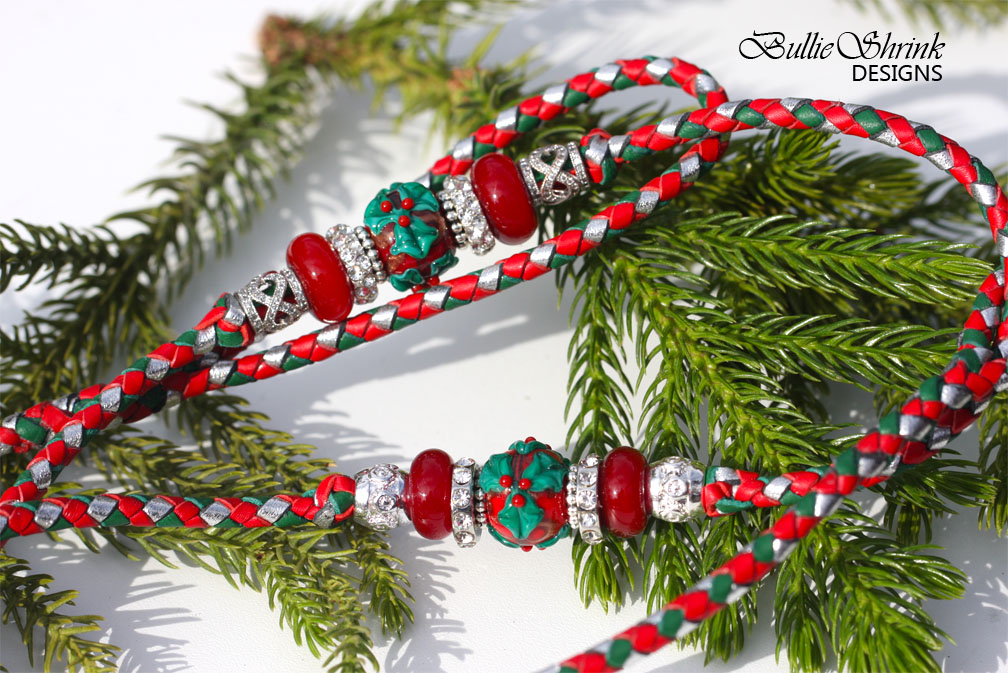 Deck the Holly
"Deck the Hollu" designer Show Lead. Kangaroo leather 4-braid lead in red, emerald green, and metallic silver. Two gorgeous Clare Scott focal lampwork beads in red with green holly leaves. Loop end with optional clip. Two smaller clusters towards the center. Each of these include a focal holly lampwork, two red lampwork sides, and silver pave rhinestone beads with bright silver ends. Towards each end is a single crystal pave bead to add special holiday sparkle to the lead.
Size: 34"
BullieShrink Designs Show Leads Gallery