Custom Pet Beads
Elegant necklaces using the likeness of your pet as the focal bead!  Beautiful Lampwork beads hand-sculpted in glass by Rebecca Jurgens (L & S Arts) create a personal, one-of-a-kind necklace.   I custom design your necklace using a specially selected assortment of complementary beads to create a unique, gorgeous and meaningful necklace.
Custom Pet Beads also make spectacular keepsake ornaments from your pet (or pet's) likeness.  Each bead is skillfully adorned with a variety of crystals and beads to frame and accent the focal piece.  These ornaments hand gracefully from any holder or decorative tree.  Not just The end result is a personal memento displayed   and Swarovski crystals and a variety of accent beads, they hang gracefully from any ornament holder.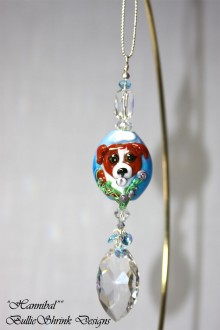 Contact me for order information and pricing.
Bullmastiff Sculpted Lampwork Glass Pendant Bead
This Bullmastiff sculpted glass pendant bead crafted by L&S Arts was modeled after my  brindle male "Bear".  Approximately 1 ¼" long, 1" wide, this focal piece is surrounded on top and bottom with genuine Swarovski crystals and 14kt Vermeil bead cap accents.  The necklace strands consist of genuine Swarovski crystals and   Jasper with vermeil accents on 14 kt gold-filled chain.  Securely fastened by a Vermeil hook clasp.